The Alcantara area is located along the Tagus River, where you can enjoy walks along the promenade and pleasant sea breeze. Now the area is being actively built up and restored. Over the past 5 years, the value of real estate here has doubled.
Alcantra is the perfect mix of local and foreign, traditional and trendy, with plenty of space and great views of the bridge.

Alcântara has a perfect mix of local & foreign, traditional & trendy, there's space as streets are larger than in other neighborhoods. It has beautiful views of the bridge and you can reach the river in less than 10min walking. It's also perfect for commuting to other areas of Lisbon avoiding the traffic, either by car through Monsanto (North, Cascais) or to the city center.

There's a big number of new projects being developed which will definitely make Alcantara even more attractive and will lead to real estate prices rising in the future.
Just out of the center, yet close enough for convenience, you'll find Estrela. Estrela offers a happy medium for most who choose to live there. If you're a couple, family, or individual moving to Lisbon for the first time, this Lisbon neighborhood is a great place to start.

Estrela offers plenty of green areas to relax and hang out with friends, most notably Jardim da Estrela - the focal point of the neighborhood. This neighborhood is so popular, partly on account of the unique integration of Portuguese and foreign residents. This popularity has driven house prices to rise.
The location of Belém, perched on the water's edge, has earned this neighborhood its notability. The area is popular and voguish. Tourists take photos of the beautiful Mosteiro dos Jerónimos or admire the displays at the National Coach Museum.

Despite the neighborhood being a tourist hotspot, Belém administers charm in high doses, if you know where to look. The area is dense with green areas and parks. It's also relatively popular with expats. One of the best things about Belém is that in the summer, when the city is hot, you have lots of lovely breezes from the river. You could build a pleasant life in Belém, provided that you can afford the district's higher property prices.
Avenidas Novas is a trendy, upmarket hotspot. Some might say it is similar to North Hollywood in LA. The neighborhood is predominantly, commercial. Although, it also provides housing for those with large enough budgets. Avenidas Novas is often alive with activity, with a great number of coworking spaces and a diverse expat community.

Avenidas Novas will place you at the pinnacle of Lisbon city-living. The public transport in the neighborhood is one of the best in Lisbon. This helps residents here feel connected to other areas of Lisbon. You can get all this, without the 'tourist' feeling you might get from more central areas.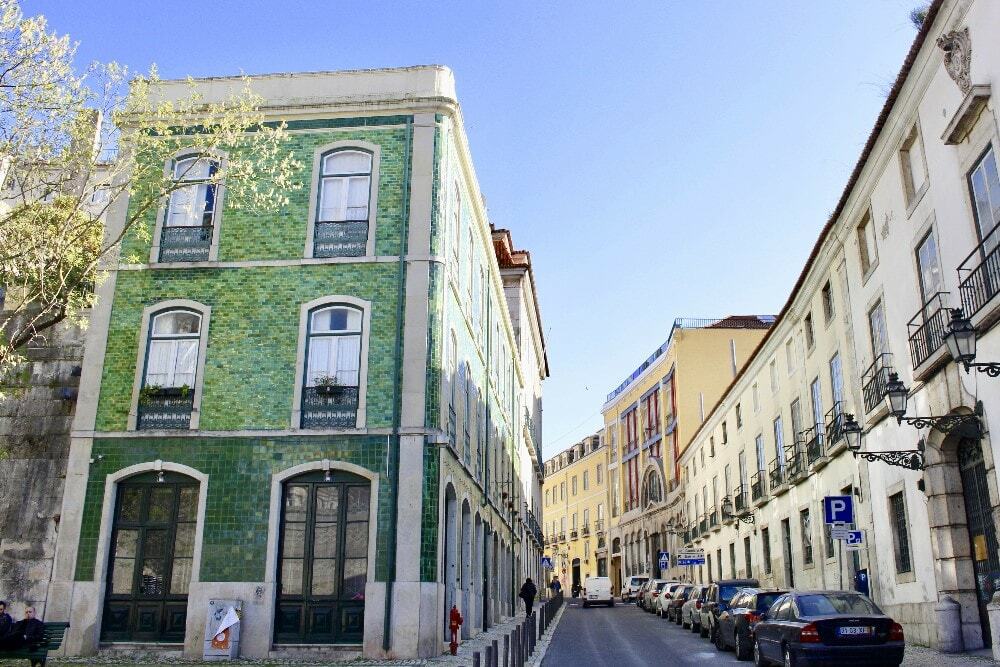 The neighborhood of Misericórdia could be regarded as Lisbon's 'downtown'. The main street through Misericórdia has seen significant redevelopment and is now packed with trendy restaurants, bars and nightclubs. By day, the neighborhood offers stunning views across the River Tagus.

This presents a perfect opportunity for a relaxing stroll along the promenade. Also, there are some nice coffee shops in Misericórdia that provide great environments for working remotely. Tourism in this area of Lisbon is popular, and many expats also frequent the area. Despite the high cost of housing.
Parque das Nações is a thriving urban hub with its glossy skyscrapers and calming riverside views. It has incredibly clean, well-maintained streets, sidewalks, and parks.

This neighborhood has now become a futuristic, commercial hotspot. This has sent property prices in Parque das Nações soaring. Parque das Nações is full of shopping centers and restaurants. The area is actively developed, so if you want to live in a new modern condominium, here you will find the largest selection of suitable properties.
A noble old district with a lot of atmospheric places, parks, cafes and green areas. On its streets there are many elegant mansions and hotels for every taste. That is why Lapa is considered an almost ideal area for living in Lisbon. Its main attraction is the National Museum of Ancient Art. It is located on Rua das Janelas Verdes. Also in the area there are two pretty harbors - Doca de Alcântara and Doca de Santo Amaro. It is always relatively quiet, calm and very comfortable here.